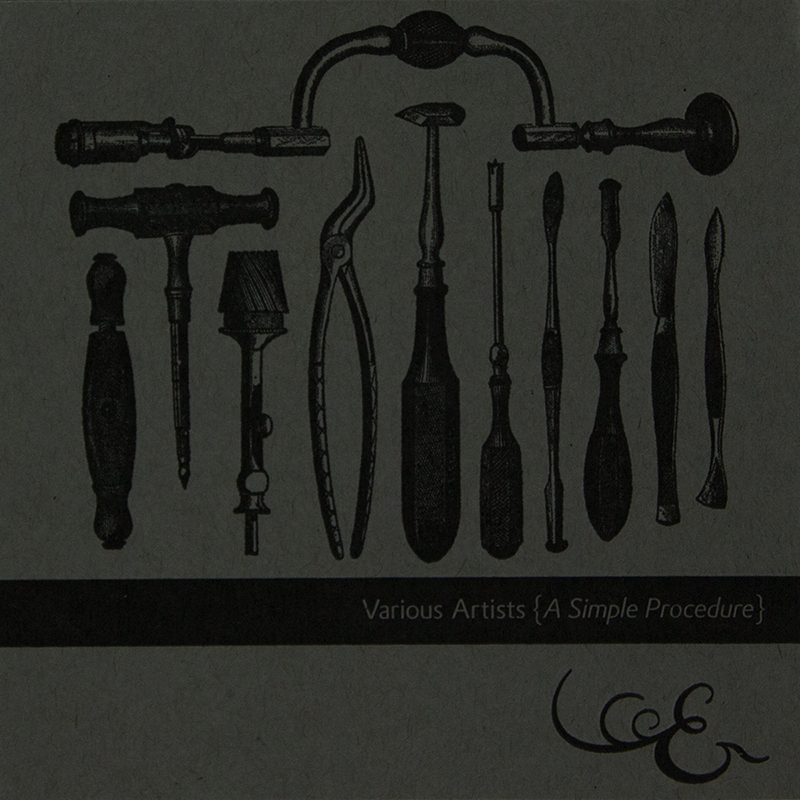 Estuary Ltd. (2015)
In 1952, John Cage wrote a piece called Imaginary Landscape No. 5 for "any 42 phonograph records." The piece consists of a graphical score and a series of instructions by which one may make a recorded work, including simple procedures such as the changing of records, silencing or allowing their playback, and making adjustments to levels from "soft" (1) to "loud" (8). The result of a series of chance operations made using the I Ching as a guide, the piece is at times frenetic, with as many as eight records playing within the span of a couple of seconds, and at other times sparse, with one or no records whatsoever playing.

The piece was made for a solo dance performance by Jean Erdman entitled Portrait of a Lady, and Cage's realization exclusively used jazz records, partly because he felt that the performance "had a character that suggested popular music" and partly to "come to terms" with jazz. Rather than trying (and failing) to repeat history by approximating Cage's realization of Imaginary Landscape No. 5 using jazz records from the 1950s, A Simple Procedure features 42 uncompromising new works made specifically for this project by a broad spectrum of acclaimed performers and composers of experimental music and cut onto 7" records via a Presto 6N lathe recorder from the 1940s. The resulting records, transcribed using an antiquated technology whose makers could certainly never have foreseen such a (mis)use, speak honestly to the nature of their translation into the physical world, lying buried under layers of static in a way that harkens towards impossible histories or unlikely uses of time travel.

Estuary Ltd. is making each of these 42 recordings available in single editions on a first-come / first-serve basis (single copies were also made for each of the artists as well as the label's archives). All copies feature letterpress printed, die cut and hand numbered sleeves, as well as a realization of Imaginary Landscape No. 5 on the B side, made by Mark Cetilia using custom software and the A sides of the 42 records themselves. The complete set of recordings, including "analog" and "digital" realizations of the piece (realized using the lathe cut records and digital files, accordingly), are also being made available as 2 CD set, in an edition of 200 copies featuring letterpress printed, die cut and hand numbered sleeves.

Noted composer Alvin Lucier once said "I don't think of technology as technology. I think of it as a landscape... and I'm just responding to the landscape of my time." Sixty-plus years after Imaginary Landscape No. 5 was written, the musical landscape is indeed very different, in great part due to Cage's contributions. A Simple Procedure is a celebration of that legacy, and a re-imagining of the piece through the lens of contemporary musical practice.

Imaginary Landscape No. 5  © 1961 Henmar Press Inc.
Sole selling agents C.F. Peters Corporation.
Used by permission. All rights reserved.

All other works © + ℗ 2015 courtesy of
contributing artists. All rights reserved.

Special thanks to Tyler Bisson at Audio Geography.
Track Listing
Disc 1
Blevin Blectum & Ed Osborn –
Limivorous
[3:14]
Gilles Aubry –
What's in the Sky
[3:24]
Ken Ueno –
Fullimmobilizationinacuirasse
[3:02]
Andrea Pensado –
Másaya
[3:28]
Amnon Wolman –
Untitled (For M&L)
[3:07]
Ido Govrin –
French Beach
[2:31]
Rrose –
Feedback Study No. 333
[3:27]
Robert Donne & Stephen Vitiello –
Withguitar2
[3:26]
Daniel Menche –
Vashon Ice
[3:06]
Steve Roden –
Broken Birds and Air
[3:03]
Jeff Carey –
Deconstructed Piano
[2:58]
Christine Ödlund –
Kvarken
[3:14]
Area C –
Porous
[3:10]
Reuben Son –
Untitled Maquette (2015)
[3:18]
Geoff Mullen –
Spring Walk in Karlsruhe
[3:31]
Yann Novak & Robert Crouch –
2 Oscillators
[3:30]
Maia Urstad –
Movement (IV)
[3:23]
Kraig Grady –
The Skirmish of Birds in Cat Museum
[3:23]
Intimacy & Intrigue –
Linger
[2:53]
Jeremy Harris –
MFA 3 (edit)
[3:34]
Work / Death –
Intentionally Left Blank
[3:01]
John Cage –
Imaginary Landscape No. 5 (Analog)*
[3:01]
Disc 2
Val Martino –
Nice Vice
[3:07]
Davey Harms –
Pulation Square
[2:48]
Ren Schofield –
Slather Effect
[3:10]
Soft Target –
Vapor Whip
[3:27]
Matt Underwood –
NASA Television
[2:59]
Jen Boyd & Joe Cantrell –
Western Plastic
[3:30]
Dalglish –
Ou45q43wx
[3:25]
Titans of Jazz –
Second Favorite Body Double
[3:26]
Ernst Karel –
Silvester 11
[3:16]
Sarah Hennies –
Heater
[3:31]
Shawn Greenlee –
Peninsula
[3:06]
Timeghost –
Ventral Tegmental Aria (Excerpt)
[3:32]
Keith Fullerton Whitman –
Redactions
[3:26]
Christopher Forgues –
Understand
[3:01]
Agnes Hvizdalek & Harald Fetveit –
Telt
[3:03]
Power Monster –
Slag
[3:29]
Morgan Evans-Weiler –
Motion Study No. 1
[3:32]
Vic Rawlings –
2002
[3:06]
Donna Parker –
Hot Garage
[3:36]
Mem1 –
Strata
[3:32]
Attila Faravelli –
Disco Aleghro
[3:30]
John Cage –
Imaginary Landscape No. 5 (Digital)*
[3:00]
* realization by Mark Cetilia
Reviews
KFJC
Loop
Neural
Textura
The Wire

Availability
This item is available in the Shop.
Also available via Estuary Ltd.