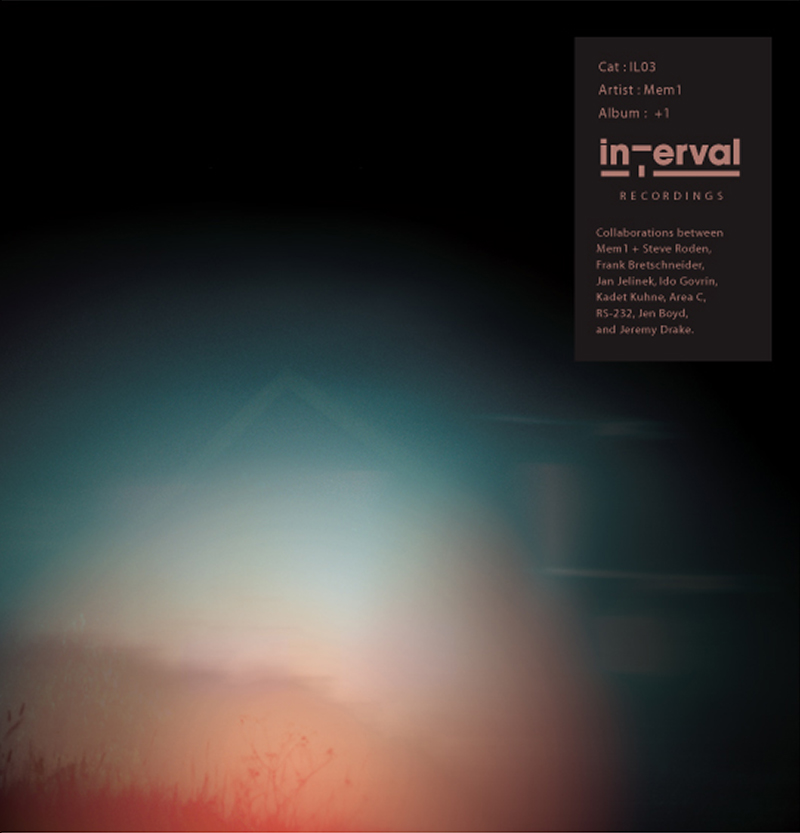 Interval Recordings (2009)
"Unlike trees or their roots, the rhizome connects any point to any other point, and its traits are not necessarily linked to traits of the same nature; it brings into play very different regimes of signs, and even non-sign states. The rhizome is reducible neither to the one not the multiple. It is not the One that becomes Two or even directly three, four, five…" –Deleuze & Guattari: A Thousand Plateaus (1980)

+1, Interval Recordings' second release by Los Angeles-based electroacoustic duo Mem1 (Mark + Laura Cetilia), introduces listeners to a series of collaborations between the duo and nine guest artists: Jan Jelinek, Ido Govrin, Area C, RS-232, Frank Bretschneider, Kadet Kuhne, Jen Boyd, Jeremy Drake, and Steve Roden. Whether the collaborations took place in an old cabin by the lake, on a hot and hazy day in a painter's studio, or floating through the infinite void of virtual space, the resulting works act as transportive vessels. Removing us from our surroundings, they deliver us to a place that cannot exist in our daily lives, a transformative space in which impossible realities collide and time ceases to exist. Comprised of lush tapestries, fuzzy dissonances, echoed rhythms and waves of electronic wash, +1 is electroacoustic chamber music for the twenty-first century.
Track Listing
+Jan Jelinek [06:57]
+Ido Govrin [08:00]
+Area C [05:37]
+RS-232 [06:26]
+Frank Bretschneider [05:37]
+Kadet Kuhne [04:28]
+Jen Boyd [06:49]
+Jeremy Drake [06:35]
+Steve Roden [05:41]
Reviews
Ampersand Etc.
Aquarius Records
Boomkat
Cyclic Defrost Magazine
Earlabs
Exclaim / Destination Out
Foxy Digitalis
Junk Media
Le Son du Grisli
Neural
Nonpop.de
Sentire Ascoltare
Smallfish
Sound Proector
Textura
The Sound Projector
The Wire

Availability
This item is available in the Shop.

Also available via Interval Recordings, Bleep Bleep, Boomkat , Rough Trade, Smallfish, Baked Goods, Norman Records (England), A-Musik, Minimamedia, No Man's Land (Germany), Soundohm, Microsuoni (Italy), Metamkine (France), Monochrome Vision (Russia), Inpartmaint, Doppelganger (Japan), Uganda (Israel), Aquarius Records, EAR/Rational (US). Digital edition available via ITunes and other discerning digital distributors.