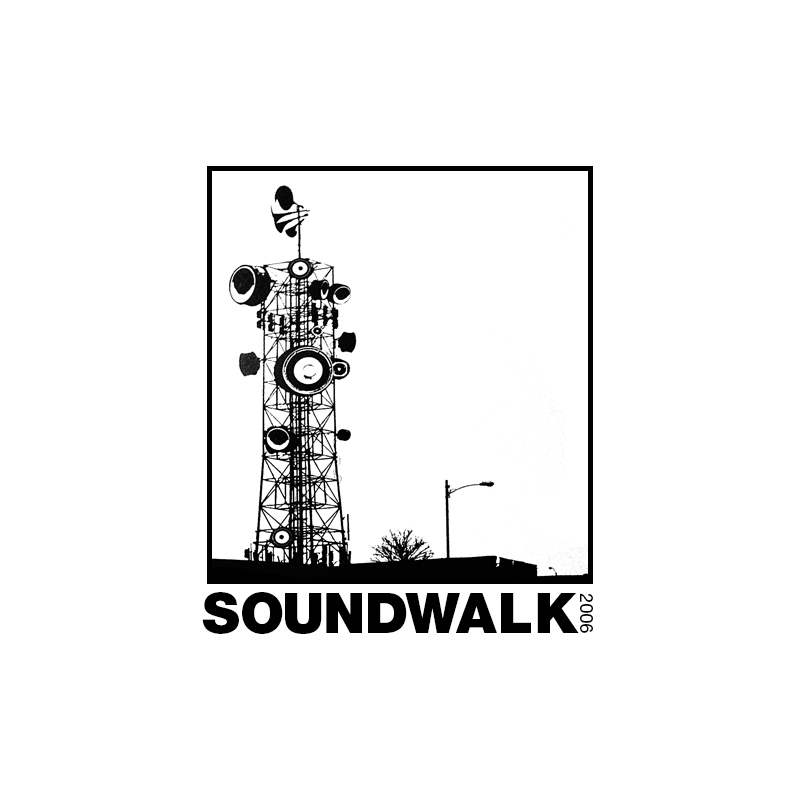 FLOOD (2006)
In 2013, one hundred years after the creation of Luigi Russolo's "The Art of Noises," FLOOD presented its last SoundWalk. We are now in the process of reconfiguring the SoundWalk website into a lasting document and living archive. Stayed tuned for future FLOOD events.

SoundWalk was a sound art event presented annually by the Long Beach artist group, FLOOD. The evening operated under the concept of a one-night experience as encountered in various indoor and outdoor spaces throughout the East Village Arts District in Downtown Long Beach. Through an array of practices and procedures, the artwork linked the auditory with visual, tactile, and other sensory systems. There were sculptures, environments, installations, both interactive and passive, as well as presentations, by sound artists with timed performances, that were scheduled during the course of the evening.

It was FLOOD's aim to raise awareness as well engender appreciation for art set forth in sound. It was also important that audiences, along with the larger community, were exposed to aesthetic sensibilities and innovative approaches that existed outside those of the contemporary mainstream. As a result, SoundWalk2004 catalyzed such a progression towards ideas and knowledge of a new contemporaneity by introducing to the public both sound art and the underground artists who were creating it.

That first SoundWalk was itself an underground endeavor as it was in large part the result of grass-roots efforts by local artist collective FLOOD (Kamran Assadi, Frauke von der Horst, Shelley RuggThorp, and Shea Gauer) and the cooperation of the business and residential community that operated and resided within Long Beach's East Village. Galleries and stores within the Arts District accommodated a variety of indoor installations and works, resulting in uncommon intersections of art and commerce. Unlikely juxtapositions of the ordinary and the extraordinary presented themselves through chance encounters with the attending public. The evening not only offered exciting moments of transformed perception but provided a chance for those in attendance to rethink their sensory engagement with those spaces in which they functioned.

Since that first year, SoundWalk became an international event. Attendees converged from various cities, states and countries. Artists ran the gamut from respected figures current in the international scene to talented guerrilla artists. SoundWalk also sponsored pre and post performance series.

After five years of SoundWalk, public awareness was raised and the gatekeepers of mainstream culture were acknowledging sound art. SoundWalk was featured on KCET's "Visiting with Huell Howser" and "Arts Alive" for KUSC Radio. The Long Beach Museum of Art and the Museum of Latin American Art also participated in the event by exhibiting work by a SoundWalk artists. Participants have noted over the years the level of efficiency and organization exhibited, both during the course of the event itself and the time leading up to it. Those artists who present and exhibit on the national and international circuit have stated that this was "a relaxed and well run event." In fact, many stated that it was the best run of their experience. All expressed surprise when informed that FLOOD was comprised of only five members and is not a large organization. Most importantly, artists have expressed pride in being part of SoundWalk and have been especially thankful to the city of Long Beach for supporting such an undertaking. Especially gratifying was the pleasure and gratitude shared by the growing numbers of visitors who have attended over the years. They noted that the urban sonic context (rich with the sounds of human and technological chatter) served as an interesting and effective backdrop. While gallery and museum spaces tend to separate art from both artists and visitors, SoundWalk had integrated place, people and product. As a result, the boundaries between artifice and real life had been blurred and in many cases had disappeared altogether as visitors realized they no longer were merely bystanders to various micro-events but were also the subjects, participants and contributors the macro-Happening of SoundWalk itself.
Track Listing
3:1 — Audible Traffic [4:02]
Aaron Drake — RTO [3:13]
Albert Ortega — Serans [2:57]
Betsy Lohrer Hall — Breaking Codes [0:11]
Bryan Ijeoma — Slang Introduction [0:10]
Carlos Giffoni — Radiators [3:13]
Carrie Yury — Your Inner Most Thoughts [0:34]
Christiaan Cruz — Constance Toweled [1:12]
Danial Nord — Bushes [3:20]
Doug Pearsall — Voicebox 1 Mockup [0:24]
Eric Strauss — Time Out [1:42]
Gary Raymond — Up Periscope [0:31]
Glenn Bach — ISOP [2:48]
hop-frog — Dung Cleanse Reed Ritual [3:52]
James Orsher — Untitled for Harmonium [5:04]
j.frede — End Days [1:02]
Joeseph Tepperman & Laura Steenberge — No Maybe Yes [0:12]
John Kannenberg — Interludell [2:28]
Kabir Carter — Shared Frequencies [3:36]
Kevin Paul — Pajarito [2:22]
Kyle Wilson — Dreaming [4:44]
Métal Rouge — Wine Cellar Recordings [2:52]
MLuM — Sound Pond [2:03]
Noah Thomas — Strum Sample [3:56]
Phil Curtis — Tracking Feldman 2 [2:23]
Phillip Stearns & Lewis Keller — Burlap [2:04]
phog masheeen — Public AddressD [0:38]
Ron Saunders & Mackenzie Bristow — Cali from Korea [2:43]
smgsap — indian Bags [1:36]
Kamran Sadeghi (Son of Rose) — Fast Flux [4:28]
Substrate — Fixed Edit [4:25]
Sumako — Facet Movment Number 2 [2:53]